Code Name: Hunter
Latest Update
12.08.2016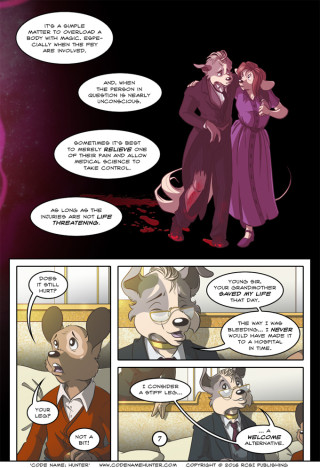 Current Issue:
Max and Nyx are out of Fey, but all is not well. Max's actions have left the Summer and Winter courts out of balance. While Max begins healing, Moraine deals with Jack Frost and plans for the future. As for Puck... if one plan fails, move on to the next one.
A Year and a Day
Latest Update
12.06.2016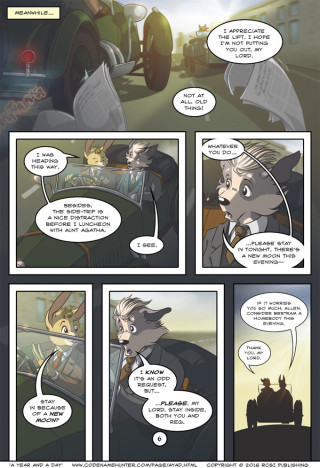 Current Issue:
It's Allen's afternoon off and he's visiting a friend, hoping for some insight into his current situation. Unfortunately, Fredrick's already made his move. While Moraine and Allen deal with the results of Catherine's decision, the new moon begins to rise. The Hunt is on...
More From Darc:
Hey guys! Just a quick note to let folks know what's currently happening. I've been focusing on getting some outstanding work completed over the last week, hence the quiet everywhere. I like to have my slate as clear as possible going into December as my mind tends to turn to mush that month. I often forget things during the holiday rush. Happens every year.
This month's Patreon Mid-Pin is nearly complete. I'll be laying in the colors today. I also have the recent 'Latest Reads' post to write up still. The book was great, I've just been occupied with other things at the moment. I should have that available for you all in a day or so.
I've decided to start hopping about the 100 Novels List instead of reading them in order. Some books I want to read right away and others I need to be in the mood for. So, instead of moving on to no. 94 - Midnight's Children, I've skipped down to an old favorite… no. 13 - David Copperfield. Matt finds it funny that I'm reading a book I've read multiple times before in a copy that's over three times older than I am. Unfortunately, the only other copy of David Copperfield I currently own is a lovely Nonesuch Edition that is massively heavy.

At the moment I'm about 100 pages in and the old 1900-ish copy seems to be holding up well. So it's all good.
I'll have this month's Mid-Pin up later today. Sorry for the quiet.