Code Name: Hunter
Latest Update
03.24.2017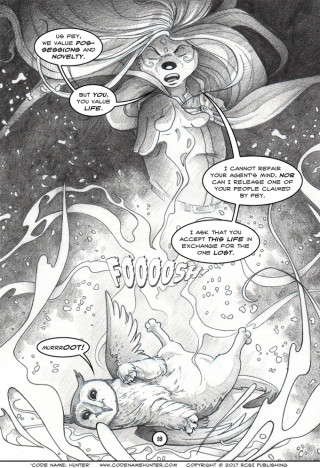 Current Issue:
Max and Nyx are out of Fey, but all is not well. Max's actions have left the Summer and Winter courts out of balance. While Max begins healing, Moraine deals with Jack Frost and plans for the future. As for Puck... if one plan fails, move on to the next one.
A Year and a Day
Latest Update
03.22.2017
Current Issue:
It's Allen's afternoon off and he's visiting a friend, hoping for some insight into his current situation. Unfortunately, Fredrick's already made his move. While Moraine and Allen deal with the results of Catherine's decision, the new moon begins to rise. The Hunt is on...
More From Darc:
Good afternoon fellow book lovers! Welcome to another Vintage Friday! This week's gem has seen a lot of action over the last 122 years. What we have today is a copy of Paul Dombey from 1895.

As you can expect, it's in rough shape. While the text block is sound, the spine has been repaired with thick bookbinders tape. The tape repairs continue on the inside of both front and back covers. 

Printed by the Educational Publishing Co, this was originally a schoolbook for the town of Jackson, state unknown.

The fact that it's an old schoolbook is what attracted me to it – well, that and the Charles Dickens connection. The interesting thing is, unlike children's retellings of classics now, this contains Dickens' original words. Heavily abridged, of course.

I'm not certain what age group this was intended for – I'm assuming elementary students. Which honestly impresses me. I doubt many elementary aged children today would be willing to tackle an abridged version of Dombey and Son. Especially considering how most high school students react to reading Dickens in class.

Despite being for children, there's only one illustration. Personally, I'd think there would have been a few more scattered about to help interest younger readers. Especially since Dombey and Son was originally illustrated.

While old schoolbooks are not usually an area I'm interested in collecting, this is a cute, and curious, little thing. I can't help wondering how many children read this before it was discarded and ended up in someone's personal collection.

Thank you for joining me today! I'll return next week with another old beauty to share with you. Until then, take care!