Code Name: Hunter
Latest Update
02.24.2017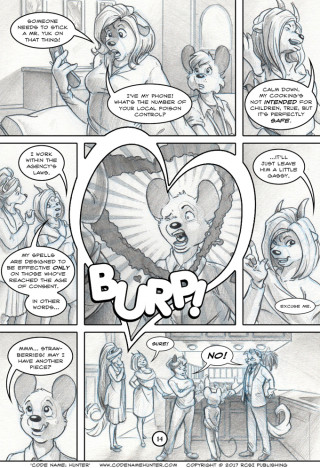 Current Issue:
Max and Nyx are out of Fey, but all is not well. Max's actions have left the Summer and Winter courts out of balance. While Max begins healing, Moraine deals with Jack Frost and plans for the future. As for Puck... if one plan fails, move on to the next one.
A Year and a Day
Latest Update
02.22.2017
Current Issue:
It's Allen's afternoon off and he's visiting a friend, hoping for some insight into his current situation. Unfortunately, Fredrick's already made his move. While Moraine and Allen deal with the results of Catherine's decision, the new moon begins to rise. The Hunt is on...
More From Darc:
Evening fellow book lovers! This Vintage Friday I've a lovely little gem to share with you…

…a copy of Aesop's Fables from 1873.

One of my favorite books as a kid was a cheap little collection of Aesop's stories. It was a red hardback with a gold outline of a fox with grapes on the front cover and had simple line art inside. I loved that book. Unfortunately, it's long gone. Happens when your family moves around a lot. When I saw this little sweetie at a local library sale a few weeks back, I was so happy.

Once I opened it up and discovered that it's filled with gorgeous illustrations, I couldn't resist.

Seriously, look at these images! They're so beautiful!

I wish I could get better photos, but I don't want to risk damaging the spine.

I swear, I could just look at the art in this book for hours. I'd love to have the skill to create art like this… damn. So inspirational!

Thank you for joining me this evening as I drool over this lovely little book! I'll return next week with another old beauty to share with you. Until then, take care!