Code Name: Hunter
Latest Update
04.27.2017
Current Issue:
Max and Nyx are out of Fey, but all is not well. Max's actions have left the Summer and Winter courts out of balance. While Max begins healing, Moraine deals with Jack Frost and plans for the future. As for Puck... if one plan fails, move on to the next one.
A Year and a Day
Latest Update
04.26.2017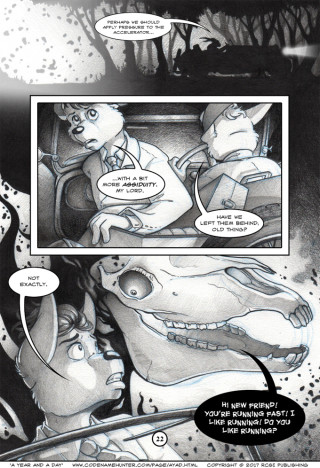 Current Issue:
It's Allen's afternoon off and he's visiting a friend, hoping for some insight into his current situation. Unfortunately, Fredrick's already made his move. While Moraine and Allen deal with the results of Catherine's decision, the new moon begins to rise. The Hunt is on...
More From Darc:
Today is Independent Bookstore Day, a day to celebrate indie bookshops across the States! If you have a free moment, seek out your local homegrown bookshop and show them some love! Who knows, you may even be able to get your hands on some exclusive goodies… like a short story by Rainbow Rowell. Use the site above to find a shop near you, stop by, and check things out.