Code Name: Hunter
Latest Update
10.27.2016
Current Issue:
Max and Nyx are out of Fey, but all is not well. Max's actions have left the Summer and Winter courts out of balance. While Max begins healing, Moraine deals with Jack Frost and plans for the future. As for Puck... if one plan fails, move on to the next one.
A Year and a Day
Latest Update
10.25.2016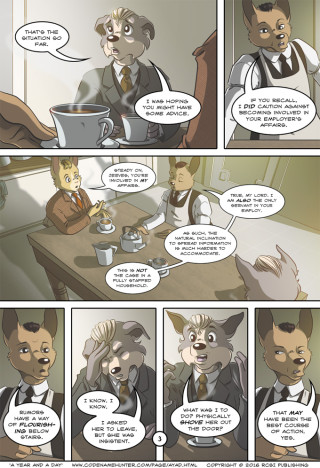 Current Issue:
It's Allen's afternoon off and he's visiting a friend, hoping for some insight into his current situation. Unfortunately, Fredrick's already made his move. While Moraine and Allen deal with the results of Catherine's decision, the new moon begins to rise. The Hunt is on...
More From Darc:
Earlier this year I gave Lit-Cube a try. I enjoyed a fun six months of bookish boxes. But there were other things I could use the money on, combined with the books being a bit hit-and-miss for me, so I dropped my subscription back in June. Still, I keep an eye on the Lit-Cube Twitter to see what's going on.

When I saw they were offering a limited edition Halloween box, I decided to give it a try. As I've mentioned before, I love Halloween. A bookish Halloween box? How could I resist?

The box arrived yesterday and it's so cute! The cost was a little higher than the standard cube – $44.95 vs $34.95 – but well worth it. Want to see what's inside? Come take a look!

First glance… interesting!

Each Lit-Cube box contains a snackable, a wearable, and a readable. With this being a special box, the edible delights were increased! We have some Annie B's caramel popcorn (which was so good), some Annie B's pumpkin spice caramels (which I have yet to try), and a packet of Frankenstein Spiced Ginger Pumpkin Black Tea from the First Edition Tea Co. Sounds yummy. I'll have to try that later this evening.

One of my favorite things is a set of magnetic bookmarks of the Sanderson sisters! 
They are so cute! I get to have Winifred hanging out in my book. I love these. I never buy bookmarks, so I'm excited whenever I receive some.

The big item is a set of pajamas that say "It's just a bunch of Hocus Pocus." There's also a pair of crazy Halloween socks! Too cute!

There's always a book in each cube, usually a Young Adult novel. This time a DVD was included as well. The book, Teen Frankenstein hasn't really caught my interest so far. We'll see how things go. Maybe it'll pick up soon. The DVD is a documentary on vampires which sounds interesting. What can I say? I'm a dork who enjoys documentaries. And vampires. Vampires are cool.

This was a wonderful box that brightened my mood yesterday. Thank you Lit-Cube!