Code Name: Hunter
Latest Update
01.20.2017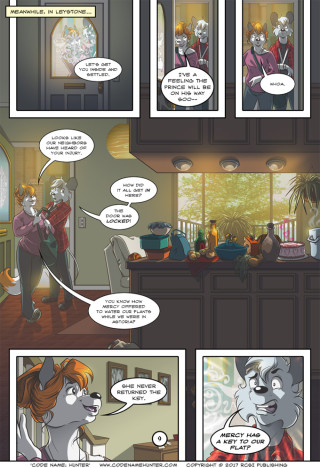 Current Issue:
Max and Nyx are out of Fey, but all is not well. Max's actions have left the Summer and Winter courts out of balance. While Max begins healing, Moraine deals with Jack Frost and plans for the future. As for Puck... if one plan fails, move on to the next one.
A Year and a Day
Latest Update
01.18.2017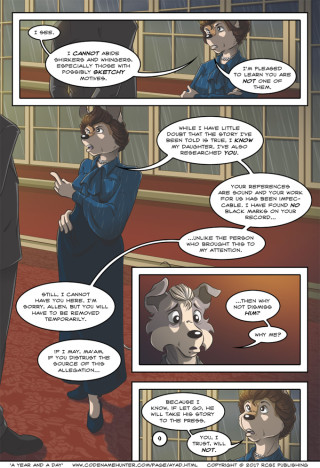 Current Issue:
It's Allen's afternoon off and he's visiting a friend, hoping for some insight into his current situation. Unfortunately, Fredrick's already made his move. While Moraine and Allen deal with the results of Catherine's decision, the new moon begins to rise. The Hunt is on...
More From Darc:
Evening! For this week's Vintage Friday I thought I'd share the smallest book on my shelves… a copy of Bryce's Thumb English Dictionary from the 1890s.

I like dictionaries. I don't know what it is about them. They just make me happy. I don't run across many vintage copies, so I was pleased when I found this little guy.

On the rear cover is an ad for Pears' Soap… the "purest and lasts the longest" apparently.

Unfortunately age, the small size, and some presumably heavy use has left this book a little fragile. The signatures are beginning to separate from the spine. Sad, but not unexpected.

The frontispiece is an engraving of Samuel Johnson.

To use this little dictionary, you turned it on its side and thumbed through the pages. The spine says it contains 15,000 words on 386 pages. As you can guess, the definitions are very brief.

The Victorians had a bit of a mania for tiny books. While this is a small volume - 1 ¾ x 2 1/8 inches - it's actually not the smallest dictionary out there. David Bryce and Son also printed two other versions, both tinier than this one. The smallest comes in at 1 1/8 x ¾ inches and is the smallest dictionary in the world. You can read more about this miniature wonder here.

Thanks guys! I'll have another old beauty to share with you next Friday. Until then, take care!